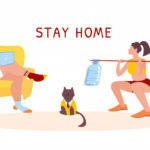 "Only when we lose something do we really appreciate it!"
This phrase perfectly describes the health and exercise situation during a pandemic.
Due to the introduction of restrictive measures, many of us around the world stopped exercising, some even practically stopped moving. Combined with constant stress, overeating and insufficient quality of fresh air. Our bodies are even weaker than they were before quarantine.
But today we will not discuss these shocking results. Also today we will not talk about the obvious benefits of sports in each of us!
Let's take a closer look at practical tips and resources to keep us active and healthy no matter what:
The above recommendations are not the only possible or correct! New technologies will provide us with tremendous opportunities for finding information! Therefore – Look for like-minded people! Take courses! Take part in online marathons! There is no better motivation than a feeling of support from a partner and love!
____________________________________________________________
P.s. Remember to regularly ventilate the area and try to reduce your food intake if you limit yourself to regular walks for an extended period.
In conclusion, I would like to quote Aristotle, who said: "Movement is life!"
With love, Kirill (BG BE Active volunteer, EREPS certified fitness trainer)