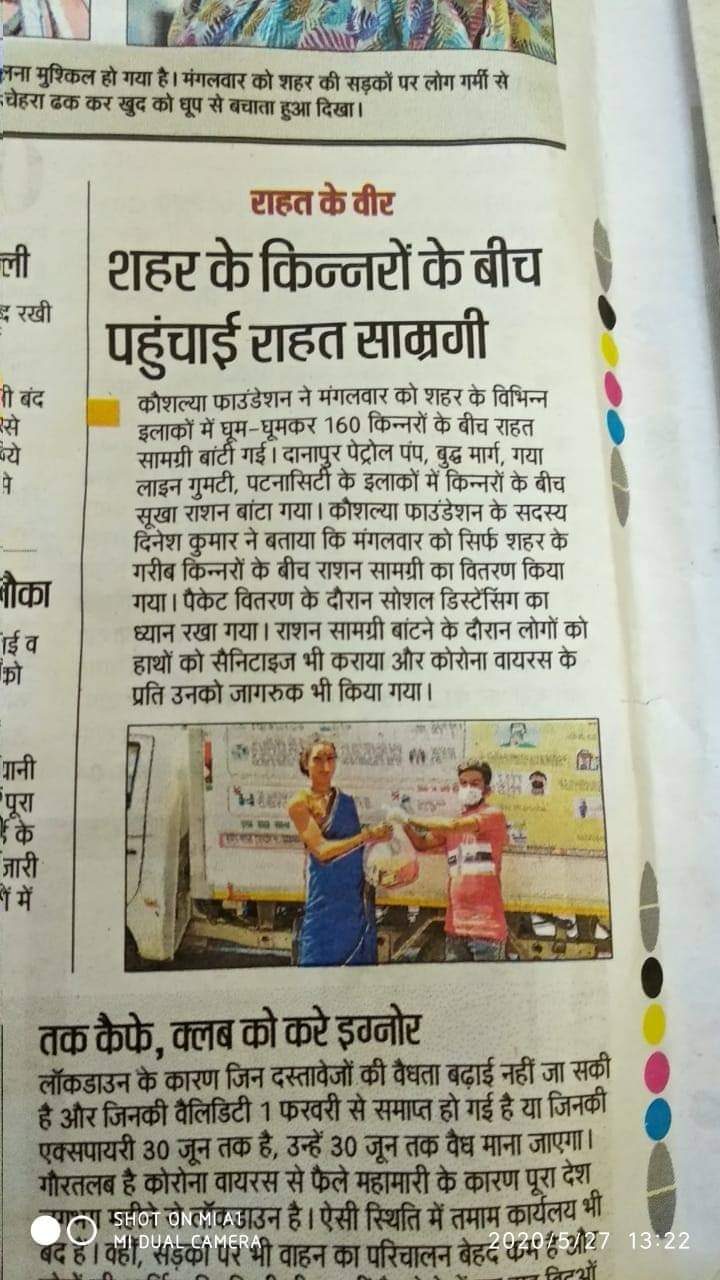 As COVID-19 pushed new population groups into hunger (or back into hunger) KAUSHALYA Foundation (KF), a Bihar-based NGO, raised money and partnered with different organizations to extend assistance to vulnerable sections of the society. KF has served more than 49.65 lakh hot cooked meals across eight states of India.
KF also extended seeds of nutritious vegetables like bitter gourd, lady finger, to migrants who returned back to Bihar after the complete lockdown in India. Migrants have not only consumed healthy food with grown vegetables but also sold in the market worth Rs 3 crore.
KF has been striking a sustainable balance between COVID-19 crisis and communities. It has impacted millions of lives positively across India to different communities like women, LGBTQ+, underprivileged, slum dwellers, street vendors.
KF realizing the need of the hour had managed to conduct COVID-19 awareness campaign in rural and remote areas of India. Corona Commandoes (KF's volunteer) educated more than 3.5 Lakh people about the ways to prevent the spread of COVID-19. Quarantine measures imposed as a response to COVID-19 were putting women and girls in rural areas put KF into a disadvantage. To support underprivileged girls and women during crisis KF distributed sanitary napkins. The distribution was conducted with the support of team volunteers and members, who relentlessly worked to reach the vulnerable communities.
To foster inclusivity and awareness towards LGBTQ+ community KF distributed ration kits among them. It mainly focused transgender and hijra community who are dependent on daily-wages. The relief package included food, hygiene kits, masks and more.
Across India, KF team members and corona commandos are delivering resilient responses to reach the poor and marginal. They showcase their efforts in and embraced digital innovations to serve the society. As the COVID-19 outbreak took hold in India challenging existing plans, frontline workers quickly learnt the digital solution to reach and trace the societies. Through continuous online trainings and capacity building of the volunteers KF managed to extend humanitarian assistance across India. In the process we upskilled our organization with our members in drive to extend aid to more than 50 Lakh people. Maintaining the COVID-19 measures KF rolled out all its responses smoothly and hence upskilled farmers and beneficiaries for digital India. They learnt how to operate fill Google forms, use android phones for community purpose.
KF's response in numbers:
More than 42.01 Lakh meals distributed
More than 6.5 Lakh cooked meals distributed
More than 44.2 Lakh dry ration kits distributed
More than 60,000 masks
More than 54,500 hygiene kits
3.5 Lakh people reached through awareness programmes
12.49 lakh kgs of agri produces marketed
Rs 90.05 Lakh worth seeds and agri instruments distributed to small and marginal farmers