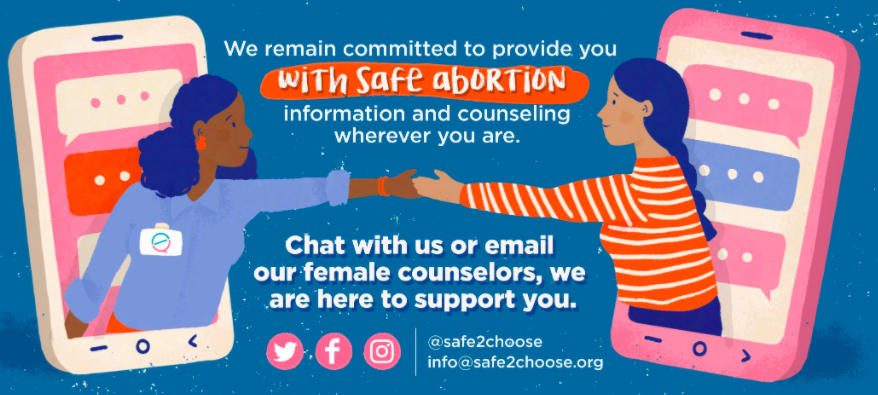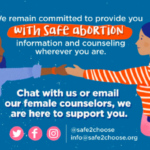 Comprehensive reproductive health services that include access to safe abortion are essential human rights. The COVID-19 pandemic and national lockdowns have accentuated already existing difficulties for women and girls worldwide to procure these services safely.
safe2choose's team of trained female counselors are staying available to support you with reliable, WHO-approved information on safe abortion in your country. Whether a medical abortion with pills at home or an in-clinic procedure such as a vacuum aspiration abortion or a surgical abortion is the most appropriate method for your situation, our team will support your choice without judgment.
safe2choose is an online platform that provides information and counseling on safe abortion and referrals to local prochoice healthcare providers by email or live chat with counselors speaking English, Spanish, Portuguese, French, Hindi, Punjabi, Kiswahili, Hebrew, Arabic, and Wolof. Its social media pages Facebook, Instagram, Twitter, and TikTok are also available to stay up-to-date with the latest safe abortion information.
Abortion is a very common medical procedure as 25% of pregnancies are terminated every year, but unfortunately, half of them are still being carried out in dangerous conditions. "Almost every abortion death and disability could be prevented through sexuality education, use of effective contraception, provision of safe, legal induced abortion, and timely care for complications" (WHO), but stigma is still a driver of fear and leads women to unsafe procedures. safe2choose has created a testimonials page where everyone can safely and anonymously share their abortion story in order to normalize the procedure and help other women seeking an abortion feel supported.